Choose your language : French, German, Spanish
---
Located on the island of Ometepe, the Hospedaje Central "El Indio Viejo" is more than just a hostel, it is a place to live and meet new people. Our team of international volunteers (Nicaraguan, Quebec, Belgian, French, Brazilian ….) will receive you friendly and will offer the following services :

---
Individual or collective accommodation
at unbelievable prices!
From beds in dormitories at $ 3.5 and rooms with private bathroom at $ 12 to air-conditioned rooms with private bathroom at $25, all budgets will find them !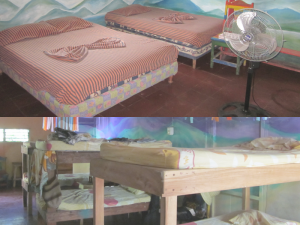 ---
Restaurant and Bar
Get ready to tickle your taste buds. Our chic and chock chefs will prepare you a variety of dishes, from the most typical Nica to the vegetarian one (with a very special attention for vegans) .
The bar offers alcoholic/non-alcoholic beverages, fresh and delicious smoothies.
Best of all, the bar groove to the sound of a sunny cool music !
---
Internet and wifi
Computers are available for access to Internet. You can also connect into WiFi, if you have your own computer.

---
International calls
You can make calls to the world at great rates. …

---
Bicycle rental
For an hour or day, our bikes (and your legs!) will take you all around the island. Cycling is a great ecological way to discover the island at their own pace!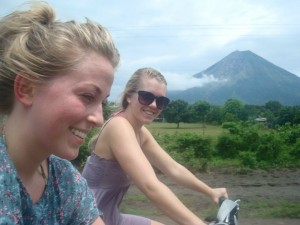 ---
Patio, garden, Chico and Menta!
Come and take your time, or waste it delightfully in the garden or hammocks, reading or talking, or playing with our two stars: Chico and Menta

---
Want to discover and give a helping hand?
The Hospedaje is part of a larger project, promoting solidarity and ecology, which emphasizes the promotion of local products and alternative way of life. Currently, two major projects can receive volunteers (a third one soon):
the Hospedaje Central El Indio Viejo : the hospedaje works almost exclusively with volunteers (that's why we can offer so low prices !)
Cocibolca, local and ecologic agriculture : located just opposite the Hospedaje, this former nightclub is being converted into a new space, aiming to solidarity and ecology. Locals and tourists will be able to find a "Sympathèque" (awareness, nutrition counseling, ecological impacts of our lifestyles …), an Aromathèque" (advice and sale of aromatic herbs …) and a "Biothèque" (sale of fruit/vegetable products processed from the local agriculture of the Island)
Tichana project, a future autonomous, ecological and traditional village : located on the other side of the island, this village will draw inspiration from indian lifestyle and techniques, to live in harmony with the nature and local resources.     More details