Choose your language : French, German, Spanish
Located on the island of Ometepe, the Hospedaje Central "El Indio Viejo" is more than just a hostel, it is a place to live and meet new people. Our team of international volunteers (Nicaraguan, Quebec, Belgian, French, Brazilian ….) will receive you friendly and will offer the following services :

Individual or collective accommodation
at unbelievable prices!
From beds in dormitories at $ 3.5 and rooms with private bathroom at $ 12 to air-conditioned rooms with private bathroom at $25, all budgets will find them !
Hammocks and camping
Price per night: US $ 3.50 / 110 C$
Dorms
Price per night: US $ 5.50 / 170 C$
Two dormitories are available, one mixed and the other "Girls Only".
Room with fan without private bathroom
– For 1 pers.: US $ 12 / 372 C$
– For 2 pers. : $ 16 / 496 C$

Room with fan with private bathroom
Price per night :
– For 1 pers.: US$ 15 / 465 C$
– For 2 pers.: US$ 19 / 589 C$
– For 3 pers.: US$ 25 / 775 C$
– For 4 pers.: US$ 30 / 930 C$
– For 5 pers.: US$ 35 / 10_( C$
– For 6 pers.: US$ 40 / 1240 C$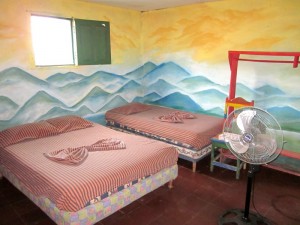 US$10 additional for air conditioning
Restaurant and Bar
Get ready to tickle your taste buds. Our chic and chock chefs will prepare you a variety of dishes, from the most typical Nica to the vegetarian one (with a very special attention for vegans) .
The bar offers alcoholic/non-alcoholic beverages, fresh and delicious smoothies.
Best of all, the bar groove to the sound of a sunny cool music !
Patio and garden
Come and take your time, or waste it delightfully in the garden or hammocks, reading or talking !

Internet and wifi
Computers are available for access to Internet. You can also connect into WiFi, if you have your own computer.

Bicycle rental
For an hour or day, our bikes (and your legs!) will take you all around the island. Cycling is a great ecological way to discover the island at their own pace!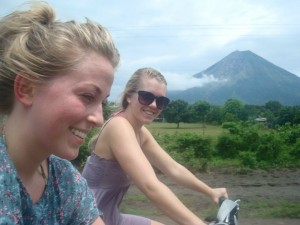 HOW TO GET HERE?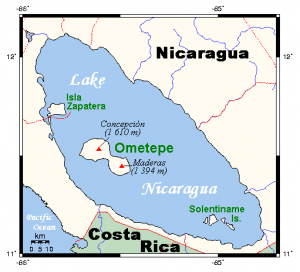 From Rivas, you have to go to the ferry terminal in San Jorge (a few minutes by taxi from Rivas). Ferries or lanchas can take you on the island, to Moyogalpa.
Schedules are (lanchas and ferries combined) : 7am, 7:45am, 9am, 10:30am, 12:30pm, 1:40pm, 2:30pm, 4pm, 5pm, 5:40pm.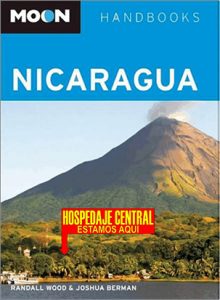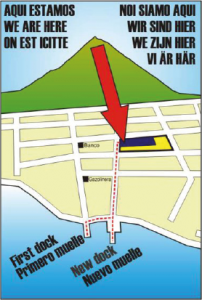 TOURS
Hike the Concepcion Volcano

The hike down rewarded us with stunning views of the island, but it was by far the most difficult part…

VOLUNTEERING
Want to discover and give a helping hand?
The Hospedaje is part of a larger project, promoting solidarity and ecology, which emphasizes the promotion of local products and alternative way of life.
The hospedaje itself can accommodate ongoing volunteer for all sorts of tasks : cooking, maintenance / housekeeping, gardening, DIY, decorating… If the work within the hospedaje interests you, we await you!
CONTACT US !
The contact is our passion!
Do not hesitate to contact us …